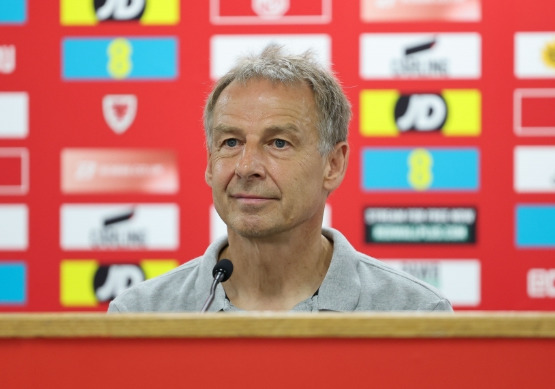 Kim Min-jae and other key players are among the most elite in the squad
Tunisia on the 12th and Vietnam on the 17th
The South Korean men's national soccer team, led by Jürgen Klinsmann (GER), has announced its 24-man
roster for the October A matches.
The Korea Football Association (KFA)
Announced the 24-man roster for the two October A matches through a press release on Oct. 2. The
roster was announced in a press release without a separate press conference.
The roster includes captain Son Heung-min (Tottenham), as well as a number of key players such as Kim
Min-jae (Bayern Munich), Hwang Hee-chan (Wolverhampton), Lee Jae-sung (Mainz), Hwang In-beom
(Zvezda), and Cho Kyu-sung (Mitwillan).
Most notable is the return of Lee Kang-in (Paris Saint-Germain) to the A squad. Currently on the roster for
the Hangzhou 2022 Asian Games, Lee is back in action for the senior national team. Jung Woo-young
(Stuttgart), who will be looking to win a record third consecutive title, will also play for the A team in October.
In addition, Kim Jin-soo
(Jeonbuk Hyundai) returned from injury in June and Kim Tae-hwan (Ulsan Hyundai) rejoined the Klinsmann after a six-month absence.
Midfielder Lee Sun-min (Gwangju FC) and goalkeeper Kim Jun-hong (Gimcheon Sangmu), who were initially named to the A roster in September, were also named to the roster.
Compared to the original roster, Yang Hyun-joon (Celtic), Lee Dong-kyung (Ulsan), Kim Ji-soo (Brentford), Kang Sang-woo (Beijing Guoan) and Ahn Hyun-beom (Jeonbuk) are missing.
The squad will convene at the National Training Center (NFC) in Paju on the afternoon of Sept. 9. The team will then face Tunisia at the Seoul World Cup Stadium on Sept. 12 at 8 p.m. before moving to Suwon World Cup Stadium on Sept. 17 at 8 p.m. to face Vietnam.
As there was no press conference to announce the roster, Klinsmann will hold a media conference on the morning of the call-up to discuss the selection and the team's preparation for the assessment.
Korea National Football Team October friendly roster (24 players)
GK: Kim Seung-kyu (Al-Shabab), Cho Hyun-woo (Ulsan Hyundai), Kim Jun-hong (Gimcheon Sangmu)
DF: Kim Young-kwon, Jung Seung-hyun, Kim Tae-hwan, Seol Young-woo (Ulsan Hyundai), Kim Min-jae (Bayern Munich), Kim Jin-soo (Jeonbuk Hyundai), Lee Ki-je (Suwon Samsung), Kim Joo-sung (FC Seoul)
MF: Son Heung-min (Tottenham), Lee Kang-in (Paris Saint-Germain), Park Yong-woo (Al Ain), Lee Jae-sung (Mainz), Hong Hyun-seok (KAA Hent), Hwang In-beom (Zvezda), Jung Woo-young (Stuttgart), Hwang Hee-chan (Wolverhampton), Lee Sun-min (Gwangju FC), Moon Sun-min (Jeonbuk Hyundai)
FW: Oh Hyun-gyu (Celtic), Cho Kyu-sung (Mitwillan), Hwang Eui-jo (Norwich City) 19가이드03