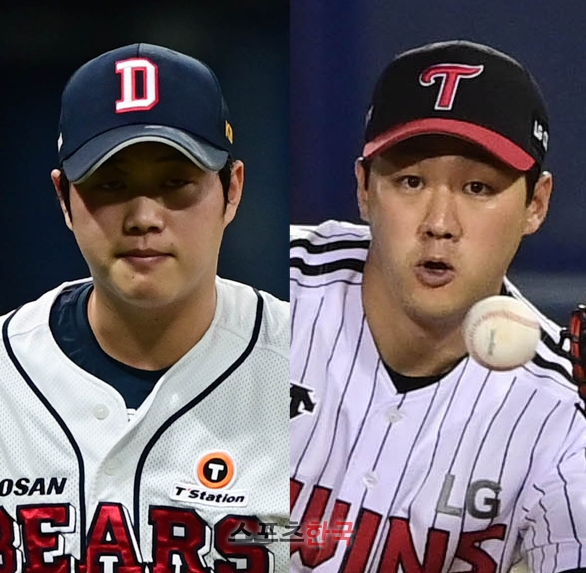 The KBO announced the list of players eligible for free agency in 2024 on Friday. A total of 34 players are eligible for free agency in 2024. By FA classification, there are 8 players in Class A, 14 players in Class B, and 12 players in Class C. Of these players, 12 are first-time free agents, 8 are re-eligible, and 14 are already eligible but have not applied for free agency.
However, if we exclude players who have already signed multi-year contracts with their teams or announced their retirement, the number is 25. Among the players who are eligible for free agency, Doosan's Yang Seok-hwan (32) and LG's Ham Deok-ju (28), 카지노사이트 who were traded three years ago, are the biggest names in the free agent market for hitters and bullpen pitchers.
Ahead of the 2021 season, Doosan, in need of an infielder with a long bat, and LG, in need of a pitcher who could start or pitch out of the bullpen, made a two-for-two trade for Yang Seok-hwan and Ham Deok-ju. At the time, Doosan had a void in its lineup due to the free-agent transfer of first baseman Oh Jae-il to Samsung. LG was facing nagging injuries to its starters in the exhibition games.
Yang hit .266 with three doubles and 22 home runs in the 2018 season before his military service with LG. He was discharged from the military in late 2020 and returned to LG.
He hit 20 or more home runs for the third consecutive season in 2021 in a Doosan uniform.
In 2021, he hit .827 with 28 homers and an OPS of .827 in 133 games, followed by .741 with 20 homers and an OPS of .741 in 107 games in 2022, and .787 with 21 homers and an OPS of .787 in 140 games in 2023.
Yang is a bit less accurate, but he has long power. His power is notable as he has hit over 20 home runs in three straight years while calling Jamsil Stadium home. His defense at first base is average. He could be of interest to teams looking to add long ball power.
Ham has struggled with nagging injuries in the two years since his trade. In 2021, he was sidelined with a bone spur in his elbow in early May, rehabbed and returned in September, but the injury returned at the end of the season. He finished with a 4.29 ERA in 16 games with a 1-2 record and one save. He underwent surgery to remove bone chips from his elbow after the season.
In 2022, he started the year in the bullpen and was promoted to the second team in early May in an attempt to get back into the starting rotation, but was sidelined by injury and did not return to the first team until the end of the season. By May, he had appeared in 13 games for the first team, posting a 2.13 ERA with no wins or losses.
On his third year with the team, Ham Deok-ju has rebounded as a closer.
In 57 games (55⅔ innings), he went 4-0 with a 1.62 ERA, 16 holds and four saves. In the Korean Series, he appeared in four games and allowed one run in 3⅓ innings.
Ham Deok-ju ranks 14th among pitchers and third among relievers with a 2.26 WAR. Among relievers, KT's Kim Jae-yoon (2.53) is first and KT's Park Young-hyun (2.47) is second. Ham Deok-ju was the top reliever in WAR until midway through the season, when he was removed from the roster in late August due to elbow fatigue and finished third as he rehabbed until the end of the season.
The bullpen also includes KT's Kim Jae-yoon (33), who has recorded 30 saves in three consecutive years, and Hong Gun-hee (31), who was the closer for Doosan, but Ham Deok-ju is the only player in his 20s among the free agents.
The only other starting pitcher is LG's Im Chan-kyu (31), who is also performing well this year. Im was eligible for free agency last year, but opted for a second stint due to his poor performance (6-11, 5.04 ERA). This year, he posted a 14-3 record with a 3.54 ERA, the most wins among homegrown pitchers in the league.
Players eligible for free agency in 2024 must apply to the KBO for approval to exercise their free agency rights by Friday, Nov. 17, within two days of the announcement, and the KBO will announce the players who have exercised their free agency rights on Nov. 18, the day after the deadline. FA-approved players will be able to negotiate with any club (including overseas clubs) for a contract starting on November 19, the day after the announcement.