Ace Ahn Woo-jin, the key to Kiwoom's rebound
Gave up four or more runs in three straight games at the end of the first half
Coach Hong Won-ki "He's a person too" firm in his faith
Ahn "I'll make up for it in the second half"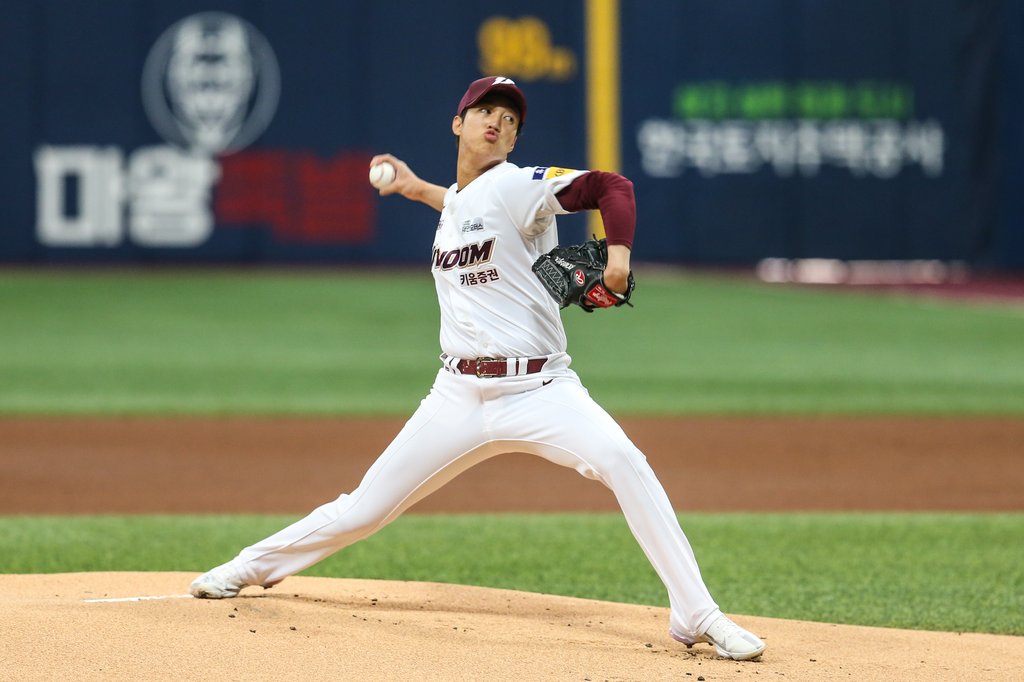 "Ahn Woo-jin is human."
That's how baseball coach Hong Won-ki described his team's ace after Ahn Woo-jin, 24 (pictured), gave up four or more runs in three consecutive games in the last half of the first half. It was the first time Ahn had given up so many runs in three consecutive games since his professional debut in 2018.
"It's famous that Han Dae-rae (former Hanwha manager) once said, 'If you're going to take Ryu Hyun-jin out, take me out,' and I think he left me a note like that, too," Ahn said, adding, "I have to repay him for his faith."
Ahn finished the first half of the year with six wins (tied for 11th), five losses, a 2.44 ERA (4th), and 130 strikeouts (1st). The pitcher can't blame himself for the low win total. Ahn received the second-lowest amount of run support (3.45) among starters in the first half. That's less than 40% less than Benjamin (30-KT-8.81), who leads the category. However, I'm not satisfied with this record.
Ahn was the league's ace last year, leading the league in ERA (2.11) and strikeouts (224). This year, he's not too far off from relinquishing the ERA title, and he's still in first place in strikeouts (130). That's 21 more than the second-place finisher, Pedi (30-NC-109). If Ahn maintains his current strikeout pace, he could finish the season with 218 strikeouts. That would make him the first pitcher in baseball history to reach the 200-strikeout plateau in back-to-back years.
"I won the ERA title for the first time last year, but I was greedy for it as if it was mine, and the more I did, the more (the title) slipped away," Ahn said. "In the second half of the year, if I do what I'm supposed to do, I might get another chance."
Ahn added, "Striking out 200 batters for the second year in a row is only possible if you play well. I don't go to the mound tapping on a calculator. Rather, I go out with the mindset of 'the team wins' every game." Contrary to his mindset, Kiwoom didn't win much in the first half. After finishing the first half of last year in second place (54 wins, 1 draw, 32 losses, 0.628 winning percentage), Kiwoom slipped to ninth place (36 wins, 2 draws, 46 losses, 0.452 winning percentage) after losing seven straight games in the first half.
Ahn decided to make some personal sacrifices to help the team rebound. She decided not to throw her "sweeper" (a modified slider), which she often utilized in the first half, in the second half. This meant that he would not risk throwing a less-than-perfect pitch at a crucial time for the team. "I felt that using a sweeper would affect my ability to throw a slider normally," Ahn said. I don't throw sweepers in practice anymore," he said.
"I haven't played fall baseball since I joined the team," said Ahn, who will start against Lotte at Sajik Stadium in Busan on Nov. 21, the first game of the second half. I had a good experience with my teammates last year (reaching the Korean Series). 카지노사이트 I want to challenge myself to experience it again this year," he said.